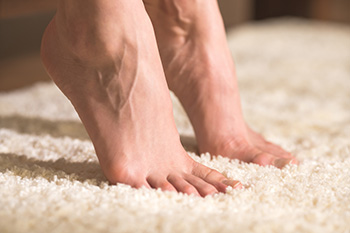 Flat feet, or fallen arches, affect up to about one-third of the population. Among the many causes of flat feet are obesity, arthritis, and injuries. Other contributing factors include genetics, pregnancy, and aging. Certain diseases, such as muscular dystrophy and cerebral palsy are risk factors for flat feet. A few exercises can help to counter the pain, stress and gait problems associated with flat feet. First, sit in a chair, keeping your back straight. Roll a tennis ball back and forth under the arch of the foot. Continue for two to three minutes and switch feet. Second, stand with your feet directly under the hips. (You may wish to have a chair back or wall nearby for support, if needed.) Keeping the toes in contact with the floor, roll your feet outward and lift the arches as far as you can. This works the muscles that lift the arches. Repeat the arch lifts 10-15 times. Rest and repeat the set two more times. Before embarking on any new exercise regime, it is wise to discuss it with a medical professional. If you need more information on how exercise can help your flat feet, please consult a podiatrist.
Flatfoot is a condition many people suffer from. If you have flat feet, contact one of our podiatrists from Foot Care Centers of Palm Beach. Our doctors will treat your foot and ankle needs.
What Are Flat Feet?
Flatfoot is a condition in which the arch of the foot is depressed and the sole of the foot is almost completely in contact with the ground. About 20-30% of the population generally has flat feet because their arches never formed during growth.
Conditions & Problems:
Having flat feet makes it difficult to run or walk because of the stress placed on the ankles.
Alignment – The general alignment of your legs can be disrupted, because the ankles move inward which can cause major discomfort.
Knees – If you have complications with your knees, flat feet can be a contributor to arthritis in that area.  
Symptoms
Pain around the heel or arch area
Trouble standing on the tip toe
Swelling around the inside of the ankle
Flat look to one or both feet
Having your shoes feel uneven when worn
Treatment
If you are experiencing pain and stress on the foot you may weaken the posterior tibial tendon, which runs around the inside of the ankle. 
If you have any questions please feel free to contact our office located in Boynton Beach, FL . We offer the newest diagnostic and treatment technologies for all your foot and ankle needs.
Read more about What is Flexible Flat Foot?