Paula DeLuca, DPM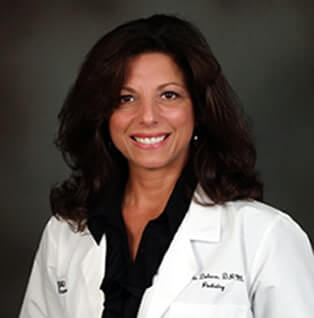 Paula DeLuca, DPM
Podiatrist, Foot Surgeon in the Boynton Beach, FL area
After receiving her BS in Medical Technology in 1985 from Oakland University, Paula DeLuca went on to earn her DPM Degree from Ohio College of Podiatric Medicine in 1993. Dr. DeLuca then completed a year of podiatric medical residency at Veterans Administration Medical Center in Detroit, MI (1993-1994) and a further 2 years of residency at Scott and White Memorial Hospital in Temple, TX (1994-1996 ).
Podiatrist Paula DeLuca, DPM has been Board Certified by the American Board of Podiatric Surgery since 2001.
Dr. DeLuca is on staff at Delray Medical Center in Delray Beach, FL as well as Bethesda Memorial Hospital in Boynton Beach, FL.
Come Visit Out Foot Doctor in Boynton Beach, Florida!
We accept most insurance plans and welcome new patients!
Call today and get back on your feet! Boynton Beach at (561) 734-4867.