Wound Care
Foot, Ankle, and Leg Wound Care in Boynton Beach, FL and Delray Beach, FL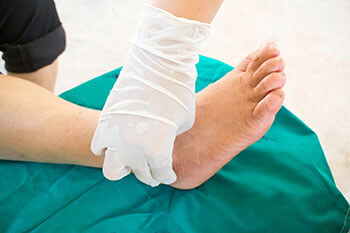 Foot Care Centers of Palm Beach places a strong emphasis on wound healing. Our providers have extensive training in wound care as well as the latest modalities and dressings to help heal wounds and treat infections in an efficient manner. Our providers perform specialized treatment for patients with acute and persistent non-healing wounds. These patients may have a history of diabetes, poor circulation, burns, prior trauma, or surgery.
After a comprehensive evaluation is performed, a treatment plan is designed incorporating the latest techniques in wound care. These include specialized wound care dressings, compression wraps, vacuum-assisted therapy, and tissue grafts when necessary. Wound care is often a team approach, involving multiple specialties, such as infectious disease, vascular, and plastic surgery. Our providers are on staff at four local hospitals including Bethesda East/West, Delray Medical Center, and JFK Medical Center. This allows our group to work closely with all specialties, giving our patients the most comprehensive wound care and favorable outcomes.
Wounds to the lower extremity, even when appearing small, can lead to more severe complications if left untreated. This can lead to worsening infection requiring hospital admission, IV antibiotics, surgery, loss of limb, or loss of life in serious cases. Therefore, it is imperative to be seen sooner rather than later for treatment of wounds.
Give our office a call at 561-734-4867 to schedule an appointment for treatment of your foot, ankle, or leg wound.
At Foot Care Centers of Palm Beach, we've got the feeling that we'll get you healing.